May 9, 2017
Six-Car Kelly-Moss Road and Race Squad for Circuit of the Americas Return
Austin, Texas (2 May 2017) – Following a standout performance at Barber Motorsports Park two weeks ago, Kelly–Moss Road and Race (KMR) will continue the team's championship hunt in IMSA Porsche GT3 Cup Challenge USA by Yokohama competition this weekend as the series stages Rounds 5 & 6 at Circuit of the Americas.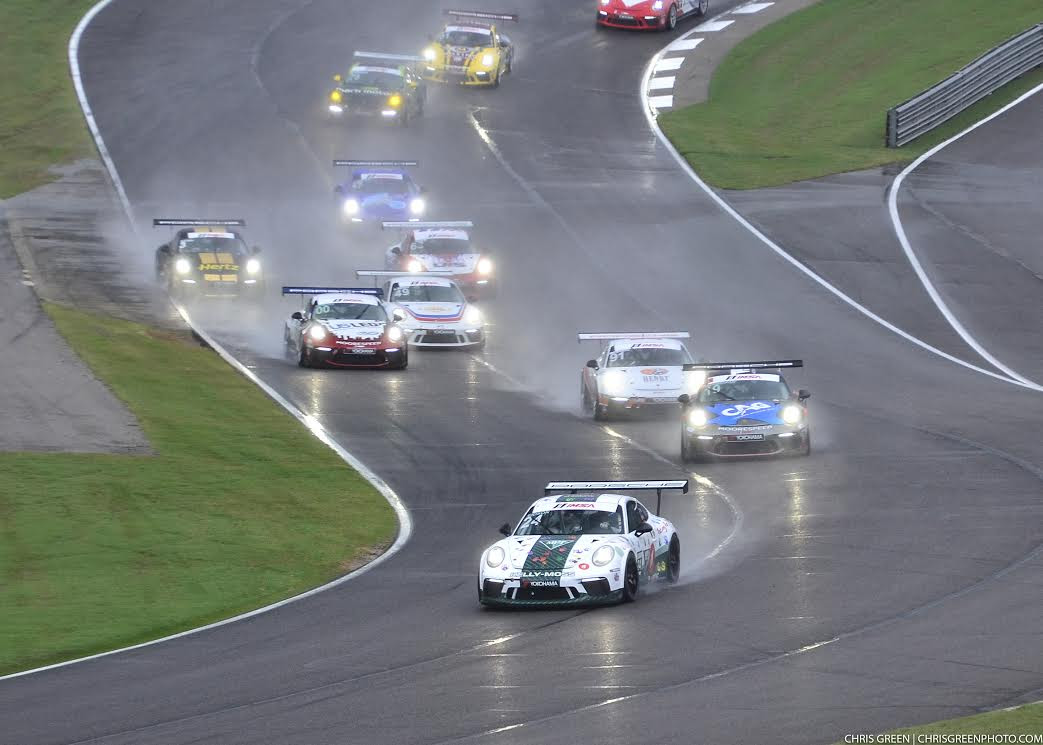 KMR will bring a stout six-car entry to the IMSA event weekend as the team looks to add a new chapter to its impressive record of success at the Texas facility.
The unmistakable Formula 1-grade Circuit of the Americas is a track where KMR has enjoyed success in IMSA GT3 Cup competition. Last year, KMR clinched the IMSA GT3 Cup championship at COTA when driver Jesse Lazare took a clean sweep of the weekend's races to claim the title with two races yet to run in the 2016 season. 
In the four seasons that KMR has raced at the iconic Circuit of the Americas venue, the team has a record that includes some nine podiums as well as three IMSA GT3 Cup race wins.
Despite two races that featured diabolically different weather conditions, KMR driver and current
championship leader Jake Eidson brings momentum to the COTA event after his dominating runs in Rounds 3 & 4 at Barber Motorsports Park.
Eidson who competes in the Platinum class, currently holds a 14-point lead in the championship standings after leading every lap on offer to take victory in both races by a significant margin in the No. 24 Children's of Alabama Porsche.
"COTA has to be one of my favorite tracks, even though I've never actually raced there," said Eidson. "The reason why I love COTA is because I had the opportunity to watch my first F1 race there and that's something I will always remember. And now being able to race at the same circuit is unreal. After a very successful weekend at Barber we've taken some helpful knowledge that we learned during practice and the races that we can hopefully apply to COTA. I
wouldn't say the team has made any significant changes to the car but we're always trying to improve."
Fellow KMR driver Kurt Fazekas is also riding high after taking a double podium finish at Barber which currently sees him second in the Gold class championship standings.
"Well I've only raced at COTA once a few years ago so I don't have much experience there," said Fazekas. "There are some very talented drivers in the Gold class so just making it to the podium is a feat in itself, but a win would be nice. I will have to qualify well, get a great start, drive a flawless race and "lady luck" has to be riding co-pilot!  I almost hope it rains. Rain is the golden equalizer and with so little track
time at COTA, I might need it."
KMR teammate Greg Palmer (No. 44, Gold class) will join both Eidson (No. 24) and Fazekas (No. 52) at COTA. Palmer is looking to rebound from the Barber event in which he showed good speed but saw his second race end early after the challenging track conditions caught him out.
"I ran at COTA for the first time last weekend for some testing," said Palmer. "It seems like half of the GT3 Cup drivers call COTA their home track so I think the competition will be tough. I'll have to completely focus this weekend on the execution of our plan. My favorite sections of the track are Turn 1, Turn 11, and 12 – all long fast straights with a hairpin turn at the end. You know you make those turns correctly when your eyes come out of their sockets! After two raceweekends I'm continuing to work on trusting the car and pushing my comfort level so I'm looking forward to it."
Returning to Kelly–Moss Road and Race for the COTA event is Tom Haacker (No. 80), who took two fourth place finishes in the Platinum class during the IMSA GT3 Cup season opener at Sebring.
"I have quite a few laps around Circuit of the Americas and am familiar with the track," said Haacker. "I participated in the first F1 weekend support race in a 997.2 which was great. The Esses have to be my favorite section at COTA – getting your rhythm right really pays off. The 991.2 is a completely different car and I have never driven a 991.1 at COTA. I have only driven 997.2's on this track and the differences between these cars are significant. I'm looking forward to the race weekend."
Rounding out the KMR line up will be the No. 99 and No. 6 Porsche machines. Longtime KMR pilot David Ducote returns to the wheel of the No. 6 Porsche having last competed for the team at Watkins Glen last
year.
Rounds 5 & 6 of the IMSA GT3 Cup Challenge USA presented by Yokohama can be viewed live at IMSA.tv. Live timing for all sessions can be followed at scoring.imsa.com throughout the weekend.
Schedule:
Thursday, May 4
Practice 1 — 8:55AM – 9:25 AM CT
Practice 2 — 1:55 PM – 2:35 PM CT
Friday, May 5
Qualifying — 10:15AM – 11:35 AM CT
Race 1 — 6:40PM – 7:25 PM CT

Saturday, May 6
Race 2 — 11:00AM – 11:45 AM CT
---