June 28, 2017
Kelly-Moss Road and Race Returns to IMSA Action at Watkins Glen
Madison, Wisc. (28 June 2017) – Racing on one of the most revered tracks in North America, Kelly-Moss Road and Race (KMR) will be back in IMSA Porsche GT3 Cup Challenge USA by Yokohama competition this weekend at Watkins Glen International with five Porsche entries. The team will look to
extend its winning history at the upstate New York track as the Wisconsin-based squad focuses on a successful defense of its 2016 IMSA GT3 Challenge title.
In addition to the Porsche GT3 Cup campaign, KMR will also field the No. 14 Ignite / Mattoni Water / Edoardo Borrelli / Ernst Kelly-Moss Road and Race Benz / Sherwin Williams / Replay XD Norma M30 entry in the IMSA Prototype Challenge presented by Mazda event. KMR driver Colin Thompson has shown speed and race craft thus far this season on the way to two podium appearances, and will focus on a breakthrough victory with the Norma M30 in the two-race weekend. 
The Watkins Glen event will see a bit of a different race format as the Porsche GT3 Cup sets the stage
for the double-header event and will see the USA and Canada GT3 series run as a combined event. Kelly-Moss Road and Race is aiming to continue its positive momentum in the championship.
Jake Eidson has led the championship standings from the very first event of the 2017 season. He and Tom Haacker will represent KMR in the Platinum class while Kurt Fazekas, who is fresh off of victory in SVRA competition at Indianapolis Motor Speedway, and Greg Palmer fly the KMR flag in Gold Class competition.
Eidson (No. 24 Kelly-Moss/Hurley Haywood Scholarship Porsche GT3 Cup) has won three of the six races already in the books this year with additional podium finishes at Sebring and Circuit of the Americas. He looks to add to his points tally with two more positive outings at the Glen.
"I'm extremely excited to have the opportunity to race at Watkins Glen!" enthused Eidson. "We had the opportunity to test there a few weeks ago and the track is almost like a video game. There is so much grip and you can really challenge the limits of the car and tires there. Hopefully we'll have the opportunity to score some more wins and extend our championship lead."
Meanwhile, Haacker (No. 80 Monster Vision Porsche GT3 Cup/Platinum) most recently competed at the Glen in 2013 and is looking forward to his return to the historic road course.
"The track has been repaved since I last drove there in 2013 and it's much faster," offered Haacker. "I'm thrilled that I have the opportunity to run at the Glen again. I'm aiming for a podium finish. The competition is pretty stiff so to achieve a podium result would be great. Let's see how it goes!"
In the Gold class, Fazekas (No. 52 Kelly-Moss Porsche GT3 Cup) will also be making a strong push for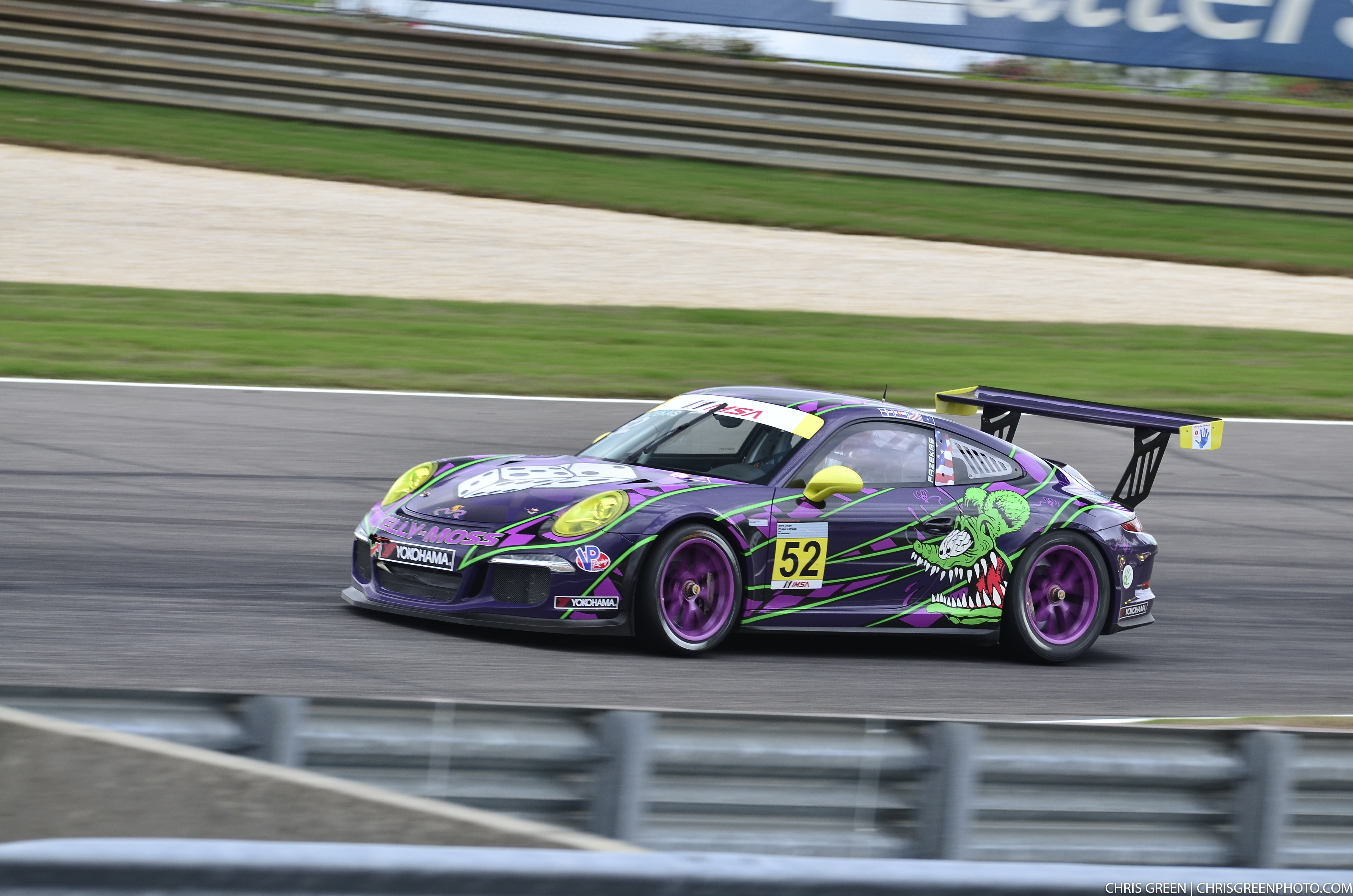 a return to the podium. Fazekas did not have the race he had been hoping for in last year's Watkins Glen event when he was taken out of the race. He looks to rebound in a big way this year and keep his podium streaking going. Fazekas has already claimed four podiums in six races so far this season.
"Watkins Glen is a very physically demanding circuit, but one that is very fun," said Fazekas. "With both series combining for one race, it should put on a pretty good show. With so many cars in a spec series, there will be no room for error at a high speed track like the Glen. I'm hoping to have a good car, a clean race, and a podium finish."
"I was at the Glen for the first time a few weeks ago – wow what a beautiful area and a fantastic track!" said Palmer. "The area is full of history and the local people love the track. The track and the area reminded me of Road America with huge hills. I thought the front straight at Road America was big – that's nothing compared to the esses at Watkins! I'm really looking forward to getting back on track with the IMSA GT3 group. My goals are to continue to build on what I learned at our test day and develop my skills. On race day things get amped up for me and I'm pushing my barriers to get faster."
With four races under his belt in the new Prototype Challenge series this year, Thompson has scored
three top-five finishes which include two podium results.
He claimed the runner-up spot in the second Sebring race and a third place finish in the previous round at Barber Motorsports Park. As the series enters its third event weekend, Thompson is hopeful about moving up to that top stop of the podium—something he has done with KMR before.
"I'm so eager to get on track at the Glen!" said Thompson. "I've had incredible results here in the past including my first win with Kelly-Moss Motorsports in IMSA Porsche GT3 cup in 2014. That led to the championship that year, and that is the exact same turning point we are looking for this weekend! It'll be a wild shootout this weekend between some insane competition and limited track time!"
The Watkins Glen event opens on Thursday, June 29 with practice for both Porsche GT3 Cup and the Prototype Challenge. All races can be viewed LIVE on IMSA.tv.
WATKINS GLEN SCHEDULE
Thursday, June 29
8:30 AM – 9:00 AM Prototype Challenge Practice 1
9:15 AM – 9:45 AM Porsche GT3 Cup Practice 1
12:10 PM – 12:50 PM Prototype Challenge Practice 2
1:05 PM – 1:45 PM Porsche GT3 Cup Practice 2
Friday, June 30
9:00 AM – 9:20 AM Prototype Challenge Qualifying
10:25 AM – 10:45 AM Porsche GT3 Cup Qualifying
2:25 PM – 3:10 PM Prototype Challenge Race 1
6:00 PM – 6:45 PM Porsche GT3 Cup  Race 1
Saturday, July 1
9:20 AM – 10:05 AM Prototype Challenge Race 2
10:30 AM – 11:15 AM Porsche GT3 Cup Race 2
---