April 21, 2017
Kelly-Moss Road and Race Barber Bound
Four-car Porsche GT3 Cup Challenge USA by Yokohama effort takes to Barber Motorsports Park

Birmingham, Ala. (18 April 2017) – 2016 series champion Kelly-Moss Road and Race  (KMR) looks to continue the team's winning ways this weekend as the IMSA Porsche GT3 Cup Challenge USA by Yokohama series heads to Barber Motorsports Park to stage the second event of the 2017 season.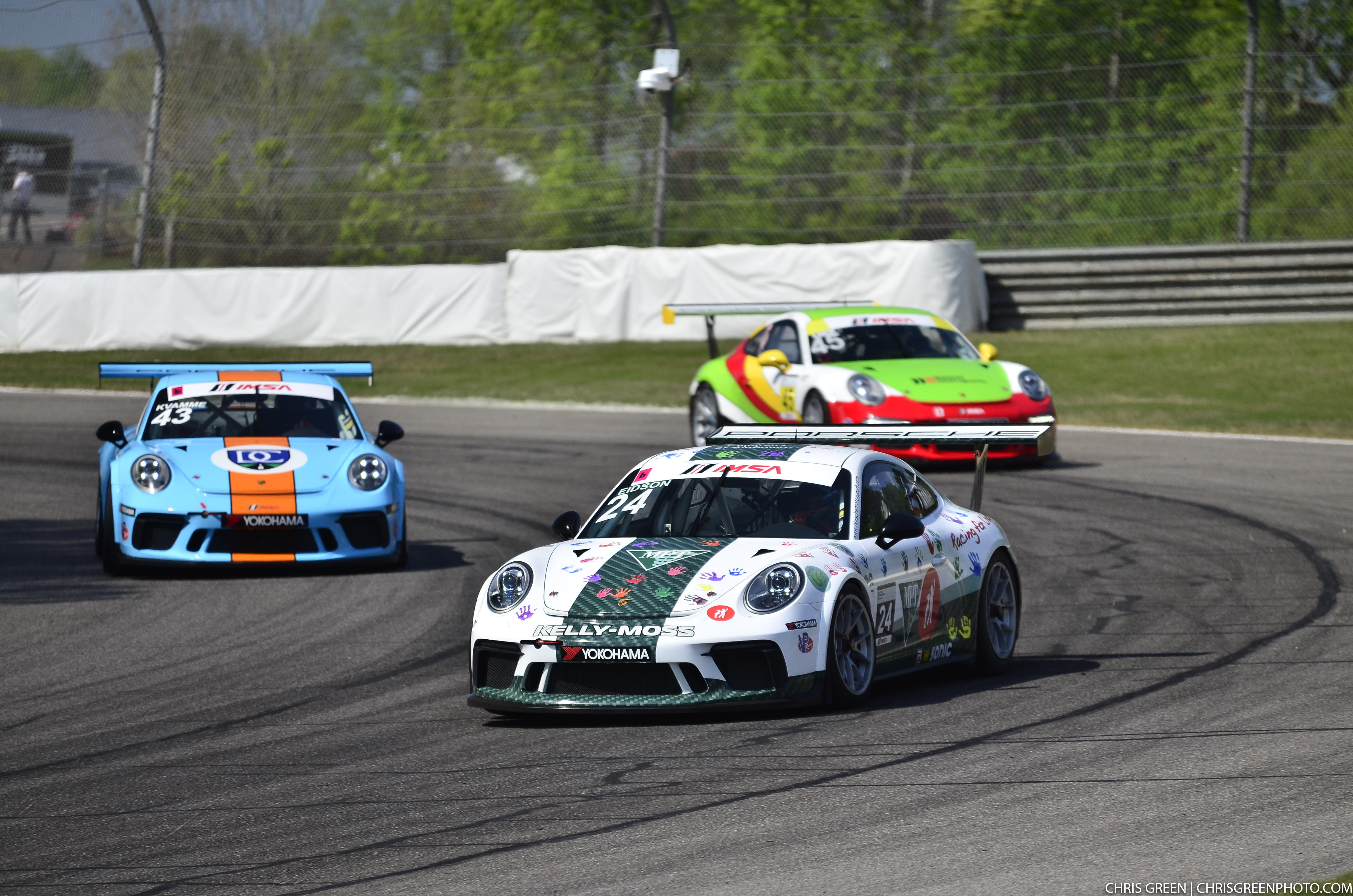 KMR driver Jake Eidson (Littleton, Colorado) scored a victory in the opening weekend at Sebring International Raceway, taking second and first place finishes in the first event to feature the all-new Porsche 911 GT3 Cup (991.2) machine. 
"The goal is to extend the championship lead and try to be smart and think forward," said Eidson. "We don't want to put ourselves in a situation that would jeopardize anything. We definitely want to be a little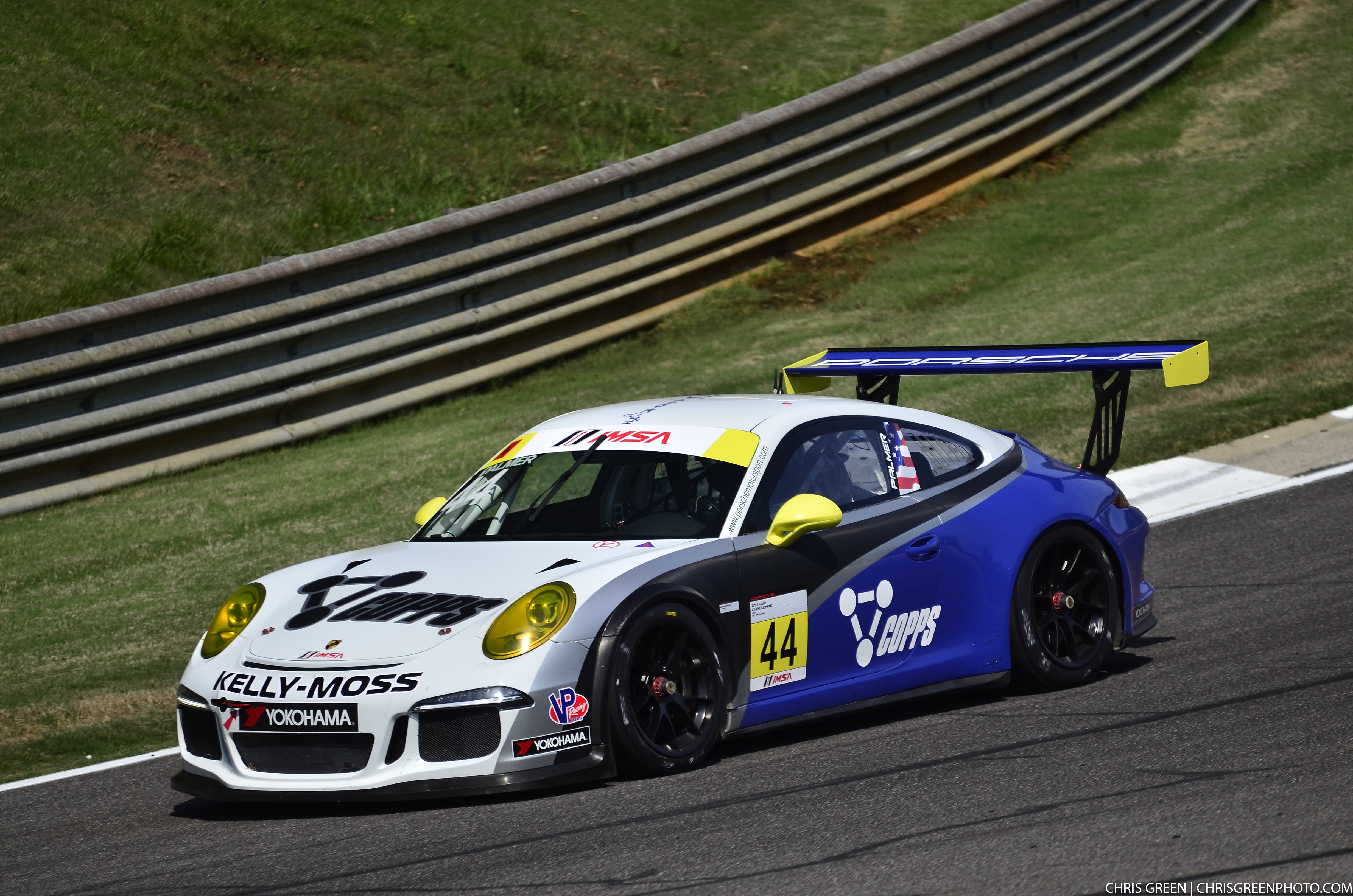 bit aggressive to extend that championship lead. After Sebring we learned more about the car and how it handled throughout the race. We now have more tools to work with and we will continue to keep honing in on the car and what it is capable of."
With the edge in the championship standings, Eidson is focused on converting the well-earned opportunity he has thanks to the Hurley Haywood Scholarship into another title for KMR.
"I wouldn't be here without the scholarship," said Eidson. "It means a lot to be leading the championship and have the opportunities that the scholarship has provided me with. I think winning the championship would be the best way to show Hurley (Haywood) and the sponsors what the scholarship means to me, especially to win a championship. We have had a great start but it's a long season and hopefully we can
make everyone behind the scholarship proud."
The No. 24 Porsche entry will be sporting a special livery at Barber Motorsports Park with handprints and signatures from patients at Children's of Alabama Hospital. Eidson visited the hospital with his race car on Tuesday. A group of children will visit the track and tour the KMR paddock area on Saturday.
Eidson will be joined by his KMR teammates Kurt Fazekas (Indianapolis, Indiana) and Greg Palmer (Colgate, Wisconsin) this weekend.
"This is my first time racing at Barber Motorsports Park," said Fazekas. "The track is tight with very little passing zones but it is a very beautiful course. I'm looking to build on our results from Sebring and hoping for another podium weekend with positive points!"
"I drove Barber for the first time a few weeks ago at a test day," offered Palmer. "I love the flowing up and down twists of the track, it combines a lot of types of corners in one track. After my test day I found muscles I didn't know I had in my sides and back. The track twists you around a lot while pulling G's going
uphill and down. And the corkscrew turn is really a controlled crash going downhill – such a blast!  I'm feeling more confident after Sebring. During my second race I was able to push the car more until I made the mistake of flat spotting the tires and had to back off and just try to finish the race. I'm looking forward to this weekend with a goal of continuing to develop what I worked on at our test day and push where I can."
Official practice kicks off the weekend on Friday with qualifying on Saturday. Race 1 goes green at 1:00 PM local time (2:00 PM ET) on Saturday, April 22 with Race 2 set to go green at 8:45 AM local time (9:45 AM ET) on Sunday, April 23.
Schedule:
Friday, April 21
Practice: 9:55 – 10:25 a.m. (CDT)
4:45 – 5:25 p.m.
Saturday, April 22
Qualifying: 8:05 – 8:25 a.m.
Saturday, April 22
Round 1 (45 minutes): 1:00 – 1:45 p.m.
Sunday, April 23
Round 2 (45 minutes): 8:45 – 9:30 a.m.
Race Coverage:
Live timing: All on-track sessions at scoring.imsa.com and on the official IMSA App for iOS, Android and Windows
Twitter: Live text commentary from all sessions at @IMSALive
Kelly Moss Road and Race Barber International Notes:
2017 is the 29th season of competition for the Madison, Wisconsin-based team
2016 Kelly Moss Championships:
IMSA Porsche GT3 Cup Challenge by Yokohama Driver Championship
IMSA Porsche GT3 Cup Challenge by Yokohama Team Championship
PCA Club Masters Championship
2017: Kelly-Moss's Porsche GT3 Cup Challenge by Yokohama champion driver, Jesse Lazare, won the 2017 Rolex 24 At Daytona in his first-ever outing in the event, driving with Alegra Motorsports.
2016: Kelly-Moss Road and Race competed in three different Porsche series: IMSA Porsche GT3 Cup Challenge by Yokohama, Pirelli GT3 Cup Trophy USA, and PCA Club Masters Championships. The team competed in 23 different race weekends, with four of those weekends featuring two different race series on two different tracks. In total, that's over 70 days spent racing, not including the numerous private tests conducted by the group.
Kelly-Moss IMSA Porsche GT3 Cup Challenge by Yokohama history: Having raced in every single IMSA Porsche GT3 Cup Challenge by Yokohama event since the series-opener in 2005, Kelly-Moss Road and Race has made 706 starts with 71 victories, 129 podiums, and six championships in that series alone—some remarkable figures.
---