August 29, 2017
Double Podium Weekend for Kelly-Moss Road and Race at VIRginia International Raceway
Jake Eidson extends championship points advantage
Alton, Va. (28 August 2017) – Kelly-Moss Road and Race (KMR) was back at it this weekend as the IMSA Porsche GT3 Cup Challenge USA by Yokohama traveled to VIRginia International Raceway for a double-header event. KMR brought home two more podium results over the weekend 
with strong performances by all four of its drivers.
The team fielded four cars in Race 1 on Saturday. Championship leader Jake Eidson started on the inside of the third row in the No. 24 Porsche and moved up to second and held his position while defending against the cars behind.
Eidson's run to his ninth podium result of the year was thwarted by some bad luck in traffic, but the young American racer showed a champion's 
poise as he elected to take the smart route out of a dramatic four-wide scrap for position late in the race.
"On the start I was keeping up with the second place car and I noticed that he was kind of all over the place – he went off and when he came back on track it was kind of at a dangerous angle so I'm pretty glad I was able to avoid that!" said Eidson following Saturday's race. "The rest of the race I had a pretty big gap up to P1 so I was just holding steady in second and defending against the guys behind me. Unfortunately we came up to some very badly timed lapped traffic – we were three or four wide and I had to back out of it. If I had kept my foot in it, something bad probably would have happened. So it was just about trying to survive and focusing on the big picture."
The No. 99 Kelly-Moss Road and Race Porsche broke through for its first podium finish of the season with a third place result in the Gold class.
 Greg Palmer in the No. 44 Copps Industries Porsche, who continues to improve his race craft with each round, took a top-five finish while Kurt Fazekas finished eighth in the No. 52 KMR Porsche machine.
In Race 2, Eidson opened the race from fifth on the grid. He quickly worked his way up to run fourth and by keeping it smart, clean and 
consistent, moved to second in the order as he took the checkered flag and the precious championship points to go with it.
"Honestly I got pretty lucky with those two basically free positions – I had a battle with Corey (Fergus) on the start and overall it was just great points this weekend," offered Eidson. "Going into this weekend and this track particularly – it's all about surviving and trying to preserve what we have. We got some good points so I'm happy."
The No. 44 and No. 99 Porsche entries also showed well in Race 2, picking up fifth and eighth place, respectively.
"It's good to get some more points toward the championship, I just wish we had been a little more in the hunt for the win but we'll take the points and head toward the end of the year with a good championship run," said KMR Team Owner Jeff Stone. "I think we'll do better at Sonoma and for sure at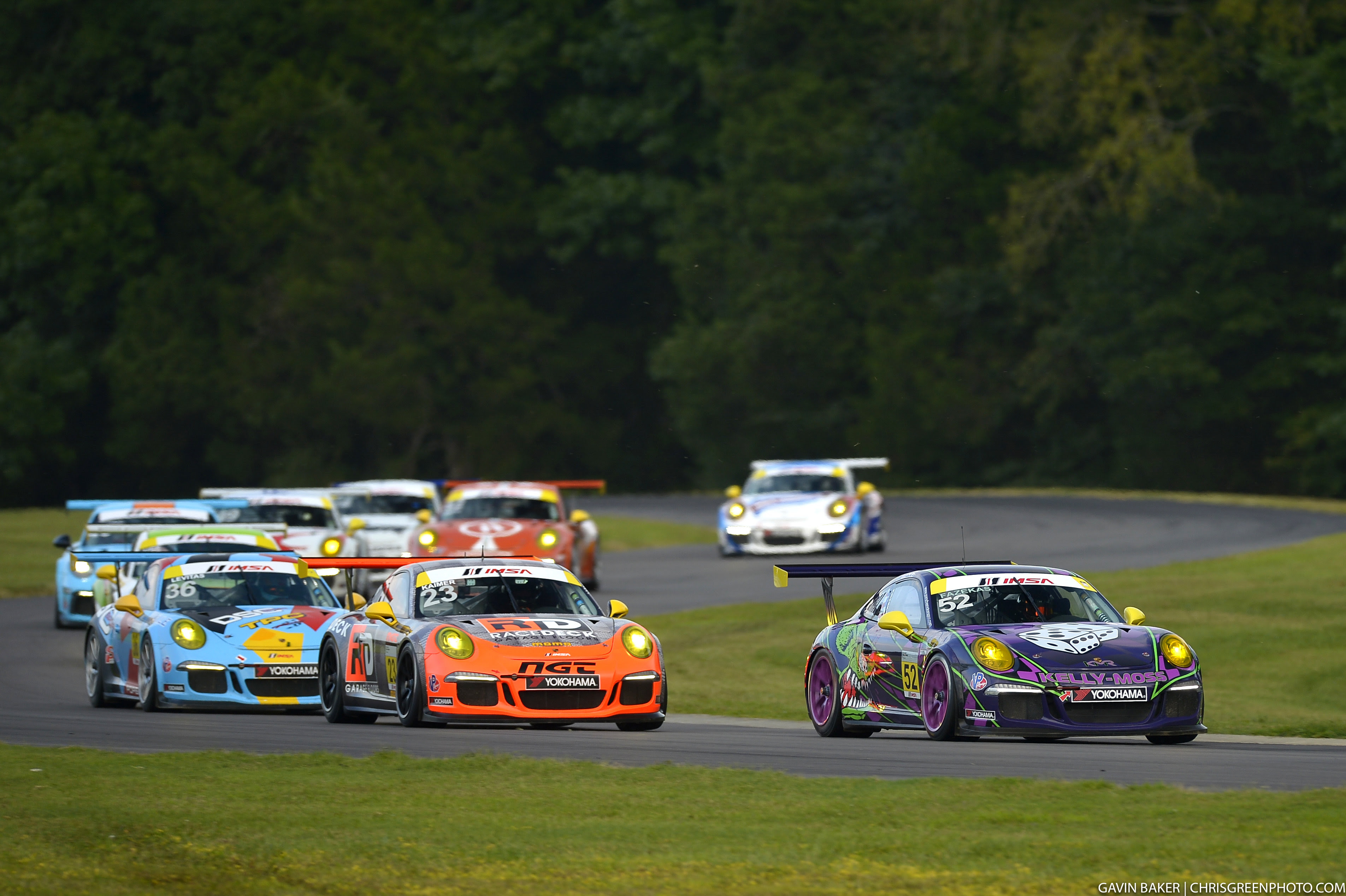 Road Atlanta. The race of the weekend was Alan Metni and Charlie Luck – those two battled hammer and tong forever. That was the race to watch. All of our guys did a great job – Greg (Palmer) unfortunately had a flat spot and had to come in to be on the safe side but he went back out and got some more time in. Jake (Eidson) has shown a lot of maturity keeping his mind on the big picture. We talk away from the track about the big picture in life and what's next and sometimes it hurts a little bit to not be able to get in there and scrap it out but sometimes you have to do what's right for the big picture and just focus on that."
The IMSA Porsche GT3 Cup Challenge USA by Yokohama series returns to action at Sonoma Raceway for another double-header event September 15-17as part of the Verizon IndyCar Series event.
Photo Credit: Gavin Baker FOR Chris Green Photography
---