May 9, 2017
David Ducote Takes Gold Class Victory at COTA with Droptine Vodka and Moonshine / Vulcan Industrial for Kelly-Moss Road and Race
Austin, Texas (8 May 2017) – Kelly-Moss Road and Race (KMR) was once again in IMSA GT3 Cup Challenge USA by Yokohama Victory Lane over the weekend at Circuit of the Americas as the championship-leading team staged a strong six car entry in the doubleheader event weekend.
David Ducote marked his return to race action, as well as new partnerships with Droptine Spirits and Vulcan Industrial, with a second place result on Friday which earned him a trip to the podium. With the rust properly shaken off, he then went on to score a Gold Class victory on Saturday with a dominating run out front in Race 2.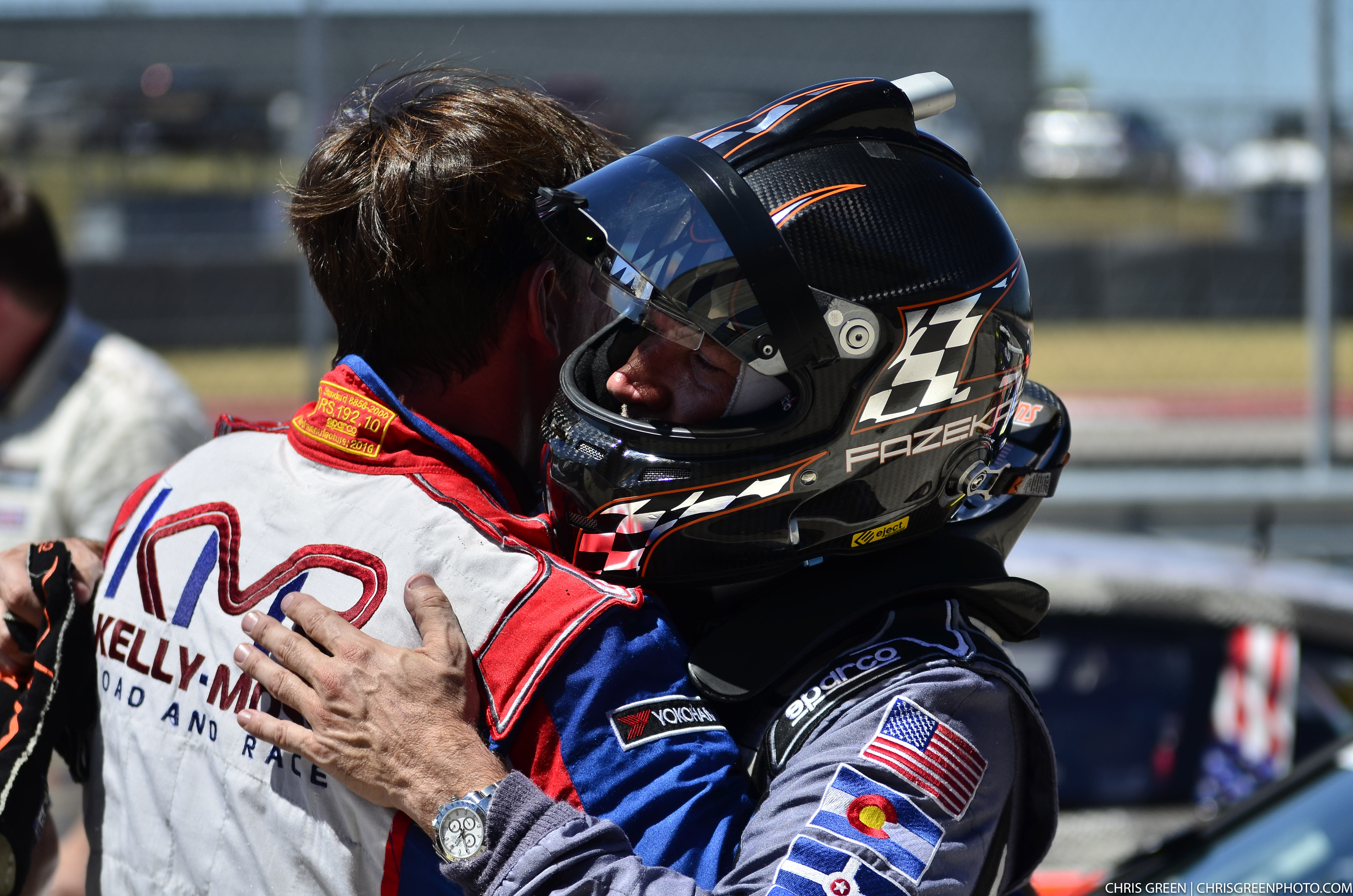 "That was a battle, from dead last!" enthused Ducote after clawing back from a tough start. "It's been almost a year since I've raced, so I was worried about knocking the rust off. But I was able to put things together pretty quickly, and Kelly-Moss really did a good job with the setup of the car. I felt confident coming into the weekend and today, I just wanted to drive consistently and conservatively, stay out of the melee of the Platinum Cup cars, and keep it clean. I figured if I did that, it would work out well so I am very pleased!"
The COTA weekend, which has been a favored event for KMR with scores of podium visits through the years, did not feature the kind of straightforward races that the team had been hoping for with some contact adding extra challenges for both events. But with a focus on points and championship battles, the KMR drivers persevered to the finish.
Tom Haacker scored second in Platinum Masters in the Monster Digital machine on Friday, with Indianapolis' Kurt Fazekas taking sixth in the Gold class. Greg Palmer netted a top-10 in his first ever COTA event in IMSA competition, and then continued his progress with sixth place in the Gold Class on Saturday.
"One of the Gold Cup class drivers was trying to put me between himself and his competition, so I got slowed up and punted," said Haacker of his second race outing of the weekend. "So it was an interesting race, but I am disappointed in how it turned out. Hopefully we can have a little bit more luck next time. I'm still learning how to get the speed out of this car and I made a lot of progress this weekend."
"It was a little bit of a battle but I slowly progressed up through the field, said Fazekas. "After the hit that bent the left rear wheel, I had a wobble, which meant I couldn't stay on the power through the right handers – the car wanted to skip around. It was a struggle from Lap 1 on but we brought it home and I'm happy to be back at Circuit of the Americas and on the podium!"
Palmer made his third IMSA start of the year continued to make progress throughout the COTA weekend.
"
It was tough getting started yesterday, I was behind on my times and struggling. but I kept looking at data and video and working on trusting the car," said Palmer. "Today, I was able to push it and do exactly what I needed to do. I still need to work on my starts—it is my "rookie issue!" I'm just continuing to work on my consistency with lap times and the guys are happy that the times are very consistent, within a half a second each time it's fun. Then when it stops, you want more! I love it."
Next up for the IMSA effort will be the race at Watkins Glen International  (June 30-July 2), and KMR will head home to Madison, Wisconsin and begin preparations for another strong outing in just over a month's time.
"This weekend didn't go exactly as we had hoped, but we had some great highlights with David (Ducote) scoring the Gold Class win on Saturday," said team owner Jeff Stone. "We were also very pleased to have our new programs with Vulcan and Droptine get off to this kind of start with a win for David. Hopefully we can have another big weekend at the Glen."
Kelly-Moss Road and Race
Circuit of the Americas— IMSA GT3 Cup Challenge by Yokohama Rounds 5 & 6
Race 1
Jake Eidson P4 – Platinum
David Ducote P4 – Gold
Tom Haacker P2 – Platinum Masters
Kurt Fazekas  P6 – Gold
Greg Palmer P9 – Gold
Race 2
Jake Eidson P3 – Platinum
David Ducote P1 – Gold
Tom Haacker P4 – Platinum Masters
Kurt Fazekas  P3 – Gold
Greg Palmer P6 – Gold
---